Category Archives:
Logistics
When I last posted, you saw the terrible air quality in Kuala Lumpur.  Well, I'm happy to report that on the following day things got dramatically better.  The readings were back to normal levels, and I didn't need my face mask again on the trip!
To avoid any other air quality problems, we wound up flying from KL to Singapore – a very short flight scheduled for 1:10 over the 213 miles, the same exact distance as from Washington National Airport (I refuse to call it Reagan) to LaGuardia in New York.
I was then in Singapore for 7 nights, but the time just flew by – with work commitments I hardly got to see any of the city!
On Saturday, it was time for my couple days of vacation before my flight home.  So, I headed back to the airport to fly north to Penang, one of the thirteen states of Malaysia and primarily an island off the western coast of Malaysia in the Andaman Sea.  The island has about 750,000 people.  The flight to Penang was 373 miles, passing back over KL to go further north.
I spent the night in George Town, a colonial city that is a UNESCO World Heritage site, at the amazing Eastern & Oriental Hotel.
The next day it was off to the jetty for the quick ferry hop over to the mainland town of Butterworth (surely, no British influence in that sort of name :)), where I boarded Train 36, the International Express.  This is a Thai train that operates from Butterworth in Malaysia all the way to Bangkok – a distance of approximately 1200km (~750 miles, or similar to New York to Chicago) and is scheduled to take about 22 hours.  I was surprised to find that it is the entry for International Express on Wikipedia, which seems pretty prominent!
After a night at a beach resort there, and a hotel shuttle journey up to Bangkok (complete with a German family of 5 with screaming infant and diaper changes en-route!), I ended up in Bangkok for a few hours before heading to the airport and starting the long journey home, via Singapore.
Now I'm back home just for two nights, before we head for a long weekend to Warsaw.  Tomorrow morning very early we'll head to the airport for the short 2.5 hour flight to the Polish capital.  More on that when we get back!  I will try to post a bit more about the trip as well, including my journey up to the top of the Petronas Towers in Kuala Lumpur.
PS: A belated happy 4th of July to everyone out there!  There wasn't much celebration in Singapore, although the hosts did make a toast to it at dinner that night.
Here's the good news – just about 24 hours after saying good-bye to Astrid at home in London, I arrived at my destination (hotel) in Santiago, Chile safely and soundly and even with my checked luggage.  This was after a 12-hour flight from London to Sao Paulo, a relatively quick transfer hustling from one terminal to another, and 4 more hours on to Santiago, then a bus and metro trip to the hotel.
The bad news, though, is that I got ripped off for 5 thousand pesos in the process.  I had read all about the problems paying with large bills and receiving change in Argentina, but I wasn't really thinking about it in Chile when I bought bus tickets for my boss and I outside the Comodoro Arturo Merino Benitez International Airport in Santiago.  Savvy worldwide business traveler, or schmuck?
The other good news – while it might sound like a lot, 5000 Chilean pesos is actually only about $10.50 (and the bus + metro + conned money was still way cheaper than a taxi!).  You see, the bus tickets were 2800 pesos, and I gave the guy a note for 10 grand.  But, he only gave me change as if I'd given him 5k.  Of course, I didn't realize this until I was already well on the bus and speeding away toward central Santiago.  I suppose it could have been an innocent error…but what happened later in the day made me pretty sure it wasn't.
My boss and I decided to pick up some soda and water as we typically do, stopping at a small independent convenience store between the metro station and our hotel.  He paid this time, and the total was about 2400 pesos; this time he used a 5000 peso note, but only received about 1600 pesos in change.  I was watching the register and the guy and told him, that isn't right – he asked about it and the guy first pretended like he had given back two 1000 notes, and when that was clearly not hte case he then made a fuss getting some supposed manager to come over and carry out a long process to open the register and give him another 1000 note.  So, once bitten twice shy…which made me feel a bit better about earlier.
You can bet that I will be counting change quite precisely for the rest of the trip!  Now it is on to get some quick sleep for my 5:30 wakeup call and an 18-hour day ending in Buenos Aires at about midnight tomorrow.
So since I passed my theoretical test, I've begun taking driving lessons.  Despite making me feel like an awkward teenager again, I do believe they are making me a better driver. Perhaps that because I no longer feel like I'm invincible (read: stupid) and I understand more about the costs of car ownership (read: expensive and ethically challenging).
But I thought I'd post a few funny stories from my recent lessons, because I haven't blogged in a while and you deserve a funny on this dreary Wednesday.
First off, driving on the wrong side of the road is not a problem. It's not an issue in the slightest way. I've never once gone over to the wrong side, or been tempted to turn into the wrong lane, or anything. Your mind just makes the switch, and it's surprisingly easy.
It's also not hard to shift with my left hand. In some ways, I actually prefer it. Because I'm right-handed, my right hand has better motor control, so it does better on the steering wheel. And my left-hand has more strength, so it does better with the gear shifting.
Other than that though, the layout of the car is exactly the same. You still clutch with your left, and break and gas with your right. The layout of the gearbox is also the same, 1st gear is top left, then down to second, etc. Easy peasy.
Where I run into trouble is with the road signs. There are LOTS of them, and they don't always make sense.  The universal sign for "don't do something" is a red circle with a line through it – think of the No Smoking sign, right?  So if you see a sign that looks like that, but WITHOUT the red line across it, I would assume that it means that thing is allowed. Makes sense, right?  But no.  This sign, below, means "No bicycles allowed"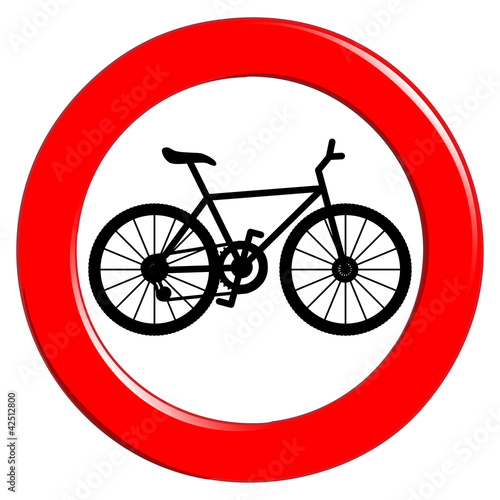 But THIS sign, below, means No Right Turn.
It's so inconsistent!  It's killing me!  Argh. Obviously I can remember the difference, but it seems like such a good example of BAD informational design.
Okay. My second story is actually funny, I promise. My driving instructor was talking about the kinds of drivers that you have to watch out for:  motorcyclists, white delivery vans, and then he said "boy racing".  I wasn't quite sure what he meant, so I asked. He said it was teenage boys who line up their cars on a straight stretch of road, and race down it at really high speeds.  I responded "Oh, you mean drag racing!",  and he said "No, not boys in skirts. Just boys. Although sometimes girls do it, too".   And there you have a perfect example of how British English and American English are not really the same language.
Have a good Wednesday!  (One week the driving test, BTW. Wish me luck!)